Ortesia Luxury Medical Grade CBD Skin Care
Ortesia CBD infused skin care products are formulated with a commitment to quality. Studies support that CBD has anti-inflammatory effects and can be used effectively directly on the skin. Many pain and skin care issues can be due to underlying inflammation. We use only the highest quality Broad Spectrum CBD oil and our creams are formulated by Pharmacists with extensive knowledge and training in skin care. Ortesia's products are made with pure ingredients to ensure professionals and consumers can have confidence in these Medical Grade products.
Ortesia skin care products have powerful antioxidants that aid in protecting the skin from free radicals and environmental pollutants. Free radicals lead to wrinkles and fine lines. Antioxidants protect our skin from this damage and help fight the effects of aging. Our formulations are free of all harmful chemicals.
The beauty industry has promoted the use of Vitamin C and E for years. Both vitamin C and E stimulate collagen production and vitamin E fights free radicals. These ingredients are used in many high-quality skin care products. CBD is rich in both Vitamin C and vitamin E. Of course, the quality of all these ingredients is critical. Look for quality ingredients with labels that indicate no artificial chemicals have been used. It is also good to confirm the products were manufactured in the USA. Much of the CBD manufactured outside of the US is unregulated and may have contaminants.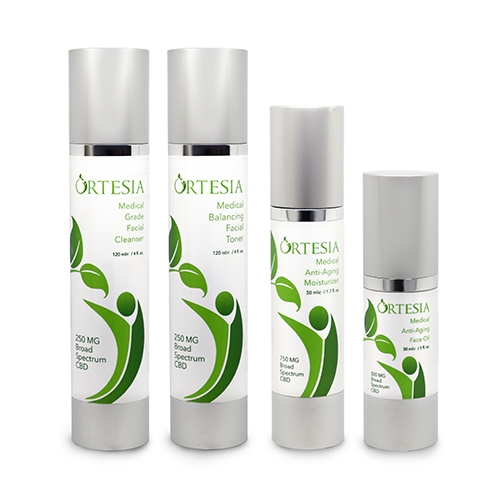 Medical Grade Face Cleanser, Balancing Facial Toner, Anti-Aging Moisturizer and Anti-Aging Face Oil Combo Pack
Medical Grade Facial Cleanser- Medical Balancing Toner – Medical Grade Anti-Aging Moisturizer- Medical Grade Anti-Aging Oil-